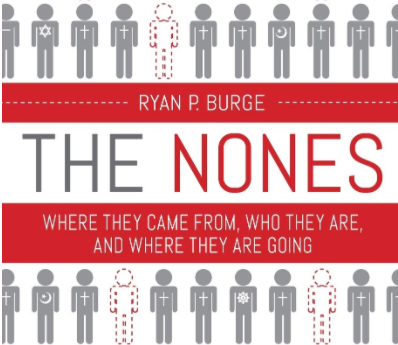 ABC Regions Zoom Webinar
May 04 2021
ABC of the Central Pacific Coast is one of eleven ABC Regions co-sponsoring a 90 minute Zoom Webinar with author, pastor, and social scientist researcher, Ryan Burge. You will enjoy joining with your colleagues from all over the country to learn about The Nones.
"THE NONES: Where They Come From, Who They Are, and Where They Are Going"
In 2018, the number of Americans with no religious preference rose to 23.7 percent, making the nones as numerous as both evangelical Protestants and Roman Catholics. Every indication is that the nones will be the largest religious group in the United States in the next decade.
Using data gleaned from the General Social Survey and other sources author and pastor Ryan Burge provides clues as to why fewer Americans identify with the Christian faith. Through careful examination of the data he shares insights as to how we should respond as Christians. These observations can help churches retool their ministries to be more effective in connecting with the unchurched. Join us for this important presentation and discussion with Ryan Burge.
Please put May 13th at 8:30am on your calendar. For more information about Dr. Burge please visit www.ryanburge.net . Also click here for a downloadable resources regarding the webinar and Ryan Burge - ../library/Webinar with Ryan Burge.pdf
Topic: The Nones - Webinar with Ryan Burge
Time: May 13, 2021 08:30 AM Pacific Time (US and Canada)
Join Zoom Meeting
https://ministrelife.zoom.us/j/3937664223
Meeting ID: 393 766 4223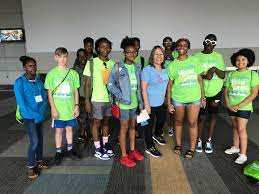 New Senior Pastor
Apr 09 2021
New Life Christian Fellowship in Castro Valley, CA has selected a new senior pastor. Although a part of our denomination for several years, Pastor Karen Yee takes on her first Senior Pastor position at New Life where she has been serving as Associate Pastor. She was chosen with 100% support of the congregation.
Here is information about Pastor Karen from the church website.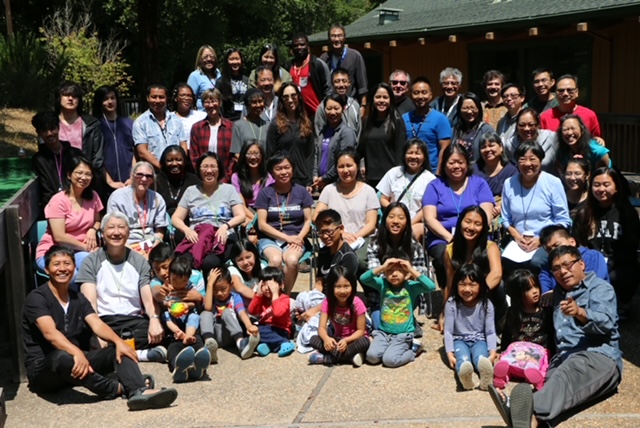 Pastor Karen Yee (top row, left) with her congregation!
Karen attended the UC Berkeley, receiving her undergraduate degree with a Social Science Field Major - "Education & Socialization" and went on to receive a Graduate Education Credentials in multiple subjects.
She then attended the American Baptist Seminary of the West at Berkeley, receiving the Claiborne M. Hill Award for Highest Academic Standing and the Jessie Day Drexler Award for Competence in the Field of Bible & Theology. Karen enjoys discovering and sharing the amazing and unbelievable grace of God, which she discovers each day through God's Word, God's world, and all God's people.
Karen presents at various regional and national events, and is serving on way too many Boards and committees. Karen keeps quite busy and connected with our national denomination. Locally, Karen also serves on the Executive Council of the Ministers Council of the Greater Bay Area. Recently, she created a Summer Day Camp program that incorporates neighborhood outreach and leadership development.
Prior to joining becoming Senior Pastor at New Life, Karen completed 15 years as the Associate Pastor at the First Baptist Church of Alameda, an American Baptist church, serving a multi-ethnic, intergenerational congregation of Christ followers. Karen has been assisting the Senior Pastor and Interim at New Life for several years, helped coordinate the High School Youth activities, has served as the lead pastor while Pastor Katie was on sabbatical, and provided pulpit supply and guest speaking engagements in various ministry settings. Prior to vocational ministry, she was a public school teacher and mentor teacher in the Millbrae School District. She also served as an active lay leader at the First Chinese Baptist Church of San Francisco. Pastor Karen's goal is to live a life that is described in Micah 6:8 "to do justice, love kindness, and walk humbly with her God." Karen loves to hang out anywhere good food and friends can be found.
Welcome Pastor Karen!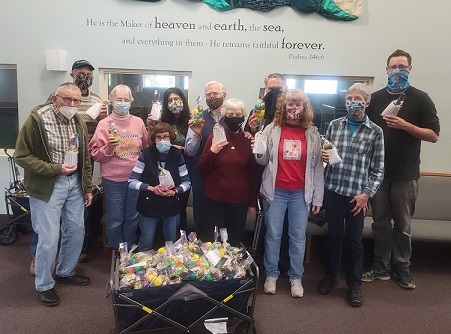 Easter Outreach at Calvary Baptist, Salem OR
Apr 09 2021
On Saturday, March 27th, Calvary Baptist Church of Salem, OR hosted their first drive-thru "Easter Experience" event. Recognizing that their normal Easter Egg Hunt would not be feasible given the current COVID restrictions, the church created 5 vignette scenes describing the Easter story. While slowly driving through the church parking lot, people could view the scenes and read the related scripture passages (or read them on their phone using QR codes). At the end of their mini adventure, each child received a bag with various candy stuffed plastic eggs in which the colors of the eggs corresponded with the Easter story. Also included was a flyer inviting the guests to Holy Week events including the Easter morning celebration service. Following the event, teams went out with the leftover bags of eggs to nearby parks where they passed out the bags to children and families.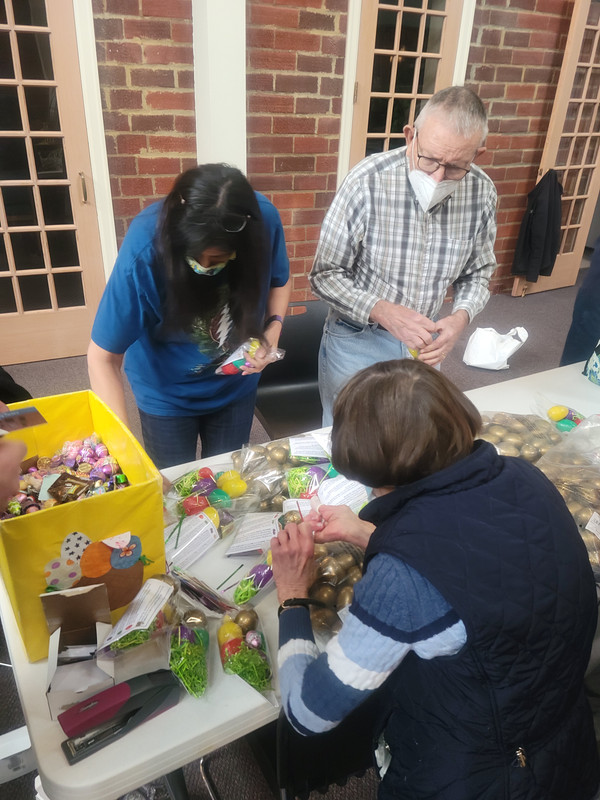 Stuffing the Bags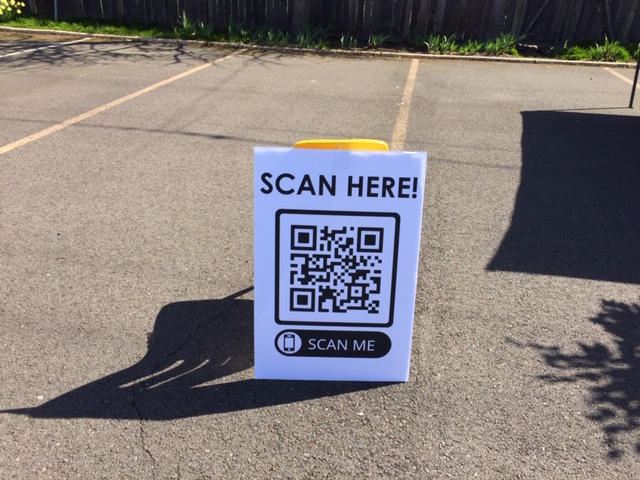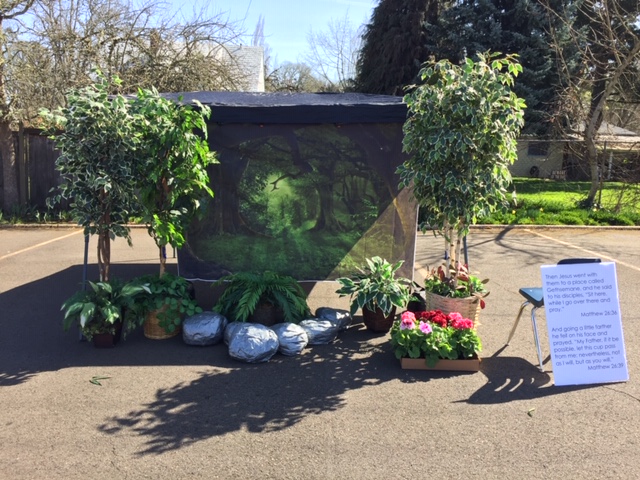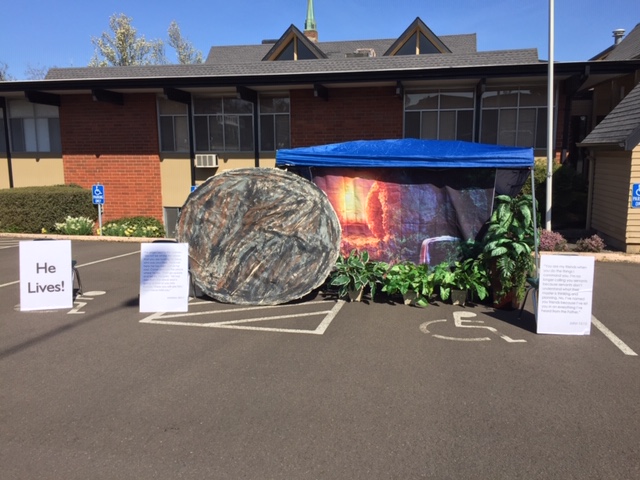 Scenes from the Easter Drive Through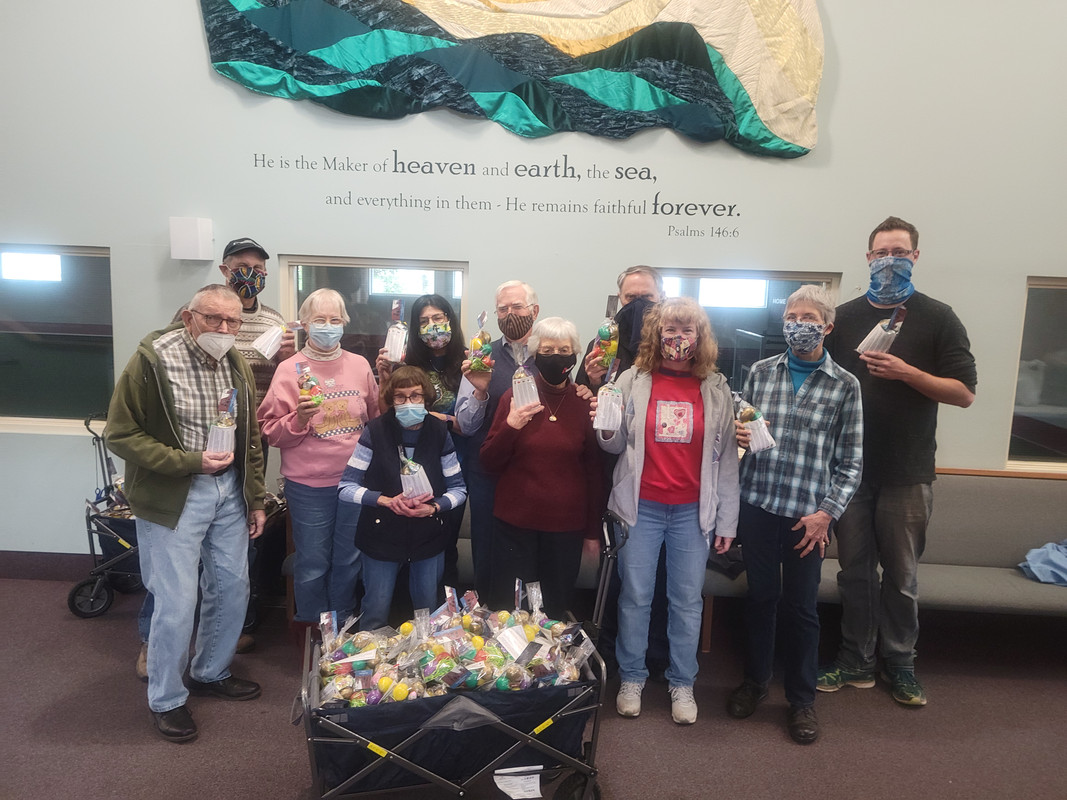 TEAMWORK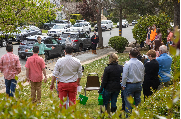 Easter Service at New Life, Burlingame, CA
Apr 09 2021
How New Life Community Church
Celebrated Easter 2021
By Rev. Laurel Balyeat Morrison
We created a unique worship experience that enabled multiple groups of 20 people to move through 5 different centers of celebration—mostly outside our sanctuary in Burlingame, California. While folks were waiting to start, they could take an Easter quiz about the Easter story or have their photo taken. All were encouraged to post their photos on social media platforms. Folks were welcomed and joined in the traditional greeting, "Christ is risen!" Then they heard that greeting on a video we created in 30 different languages. They also heard the powerful testimony on video of Marlon, a young man who left gang life and prison, became a Christian, and was baptized on Palm Sunday weekend.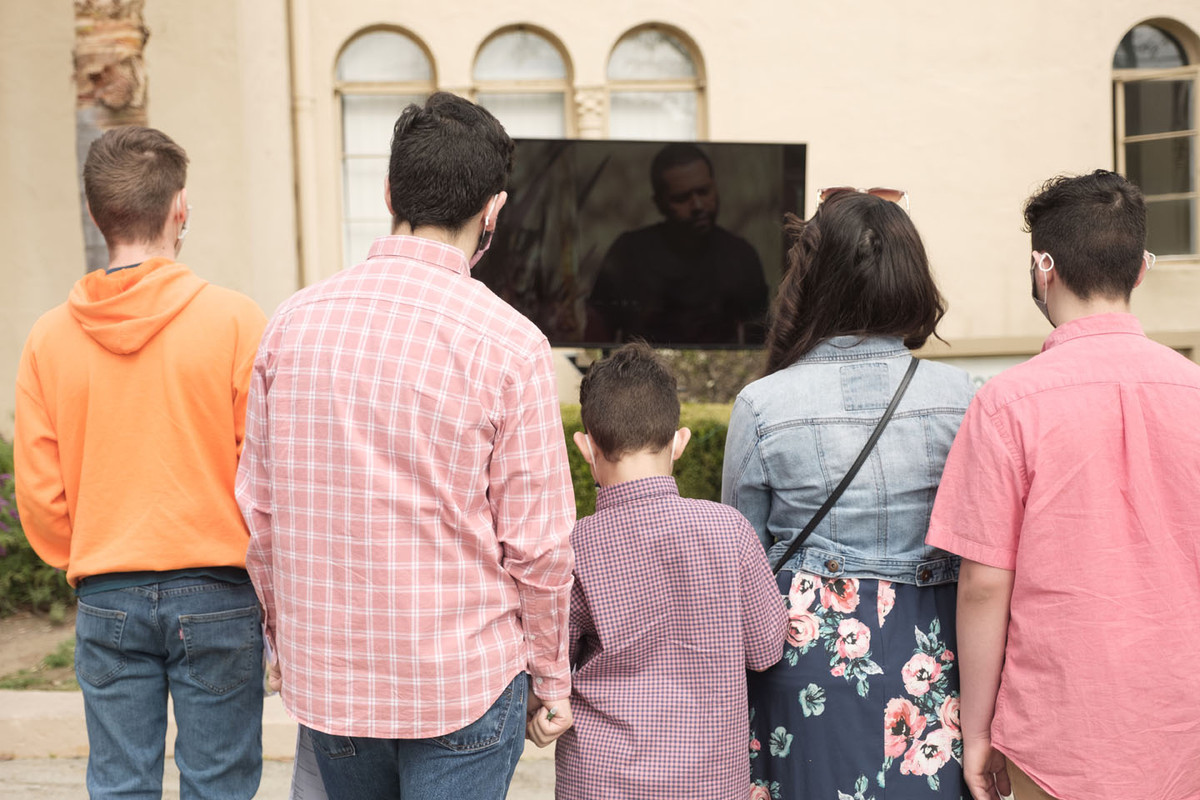 Worshippers looking at the screen to hear Marlon's testimony
Families took their children inside the chapel to hear the reading of an Easter story by Rev. Laurel Balyeat Morrison. Like Jesus' experience in Gethsemane, worshippers could quietly focus on God in our
courtyard "Prayer Garden." There adults and children also wrote down different prayer requests for different needs in our community and world.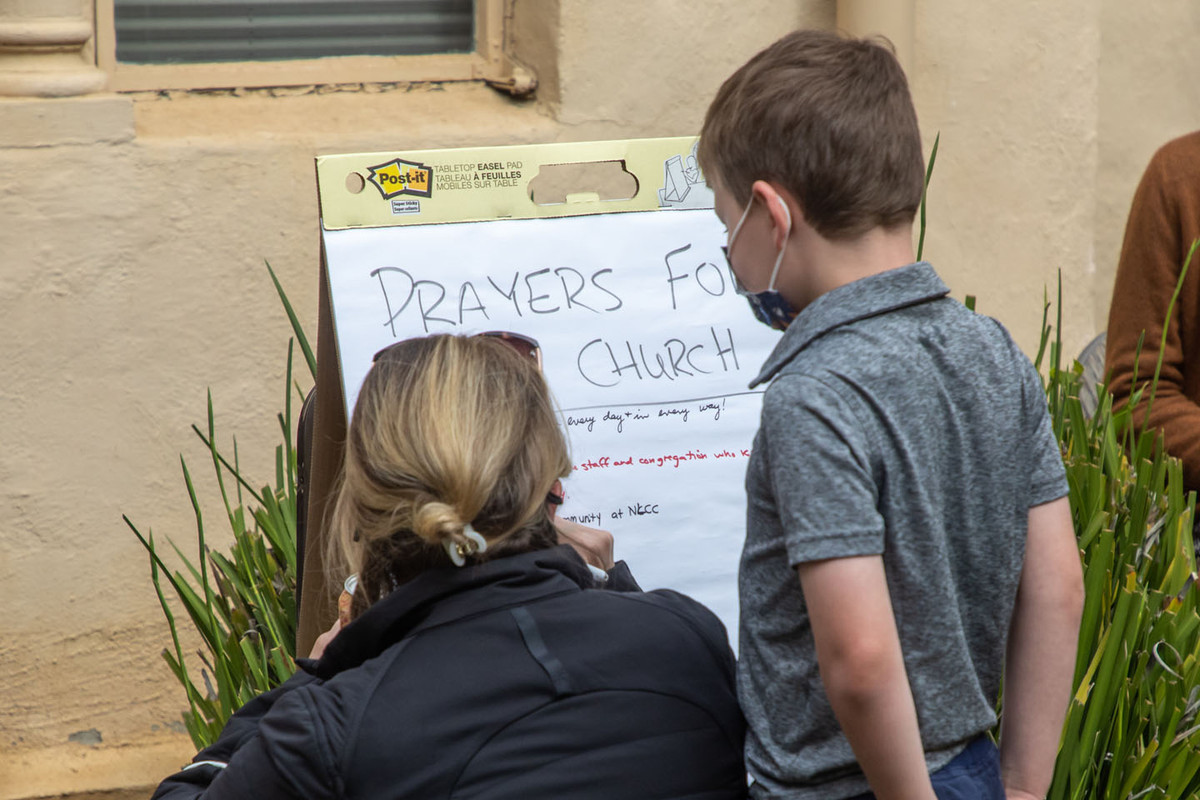 A mom and son writing on our Flip chart "Prayer Wall" their prayer requests
In the third center, our Scriptorium, participants were able to read Scriptures about Jesus' resurrection, write their responses to them, and listen to our Hand Bell Choir.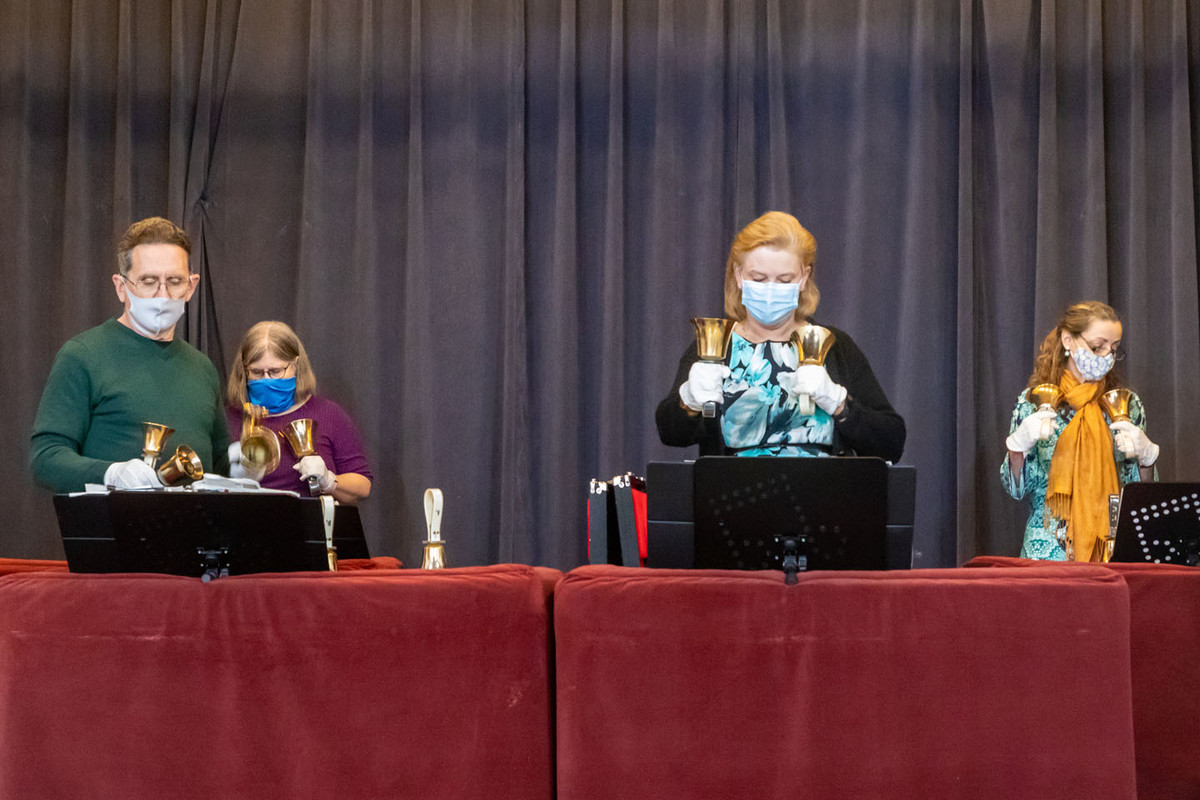 Four people playing handbells
The good news was preached by Pastor Stewart Perry, based on Rev. 1:18 in which Jesus declared, "I was dead and now I am alive!"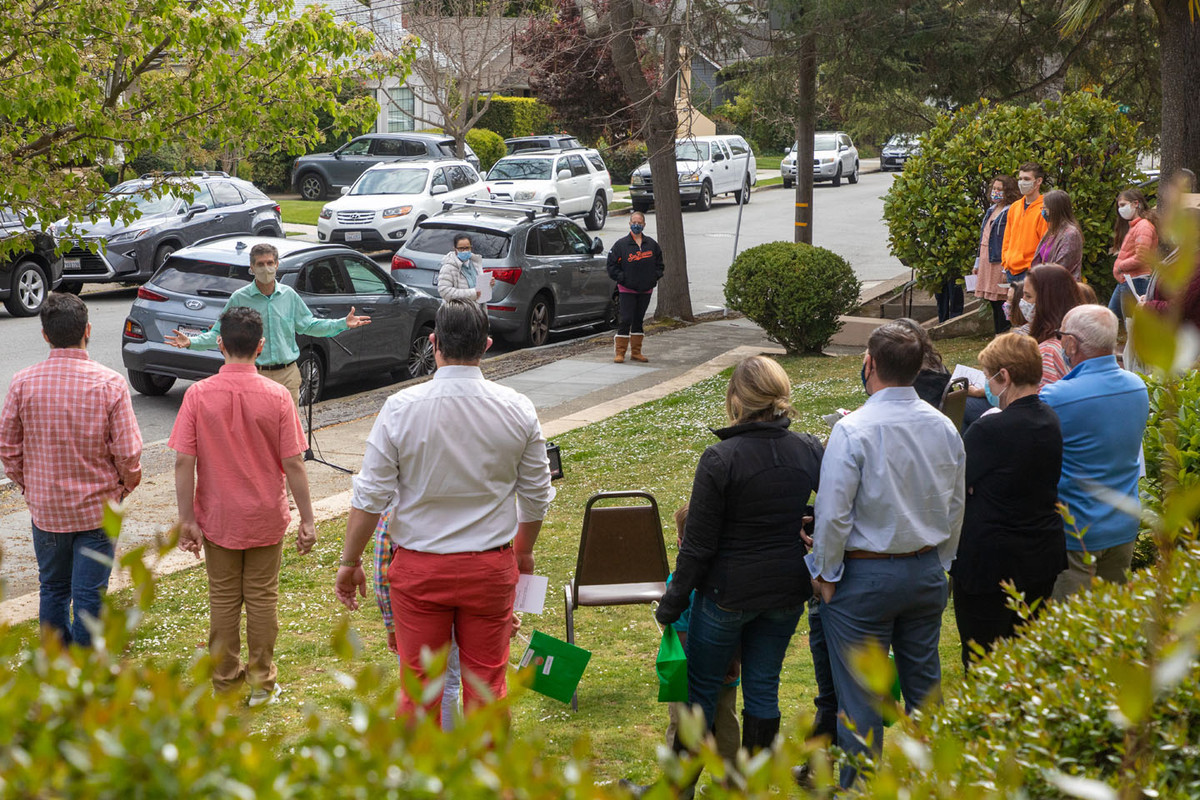 Stewart in a light green shirt preaching his message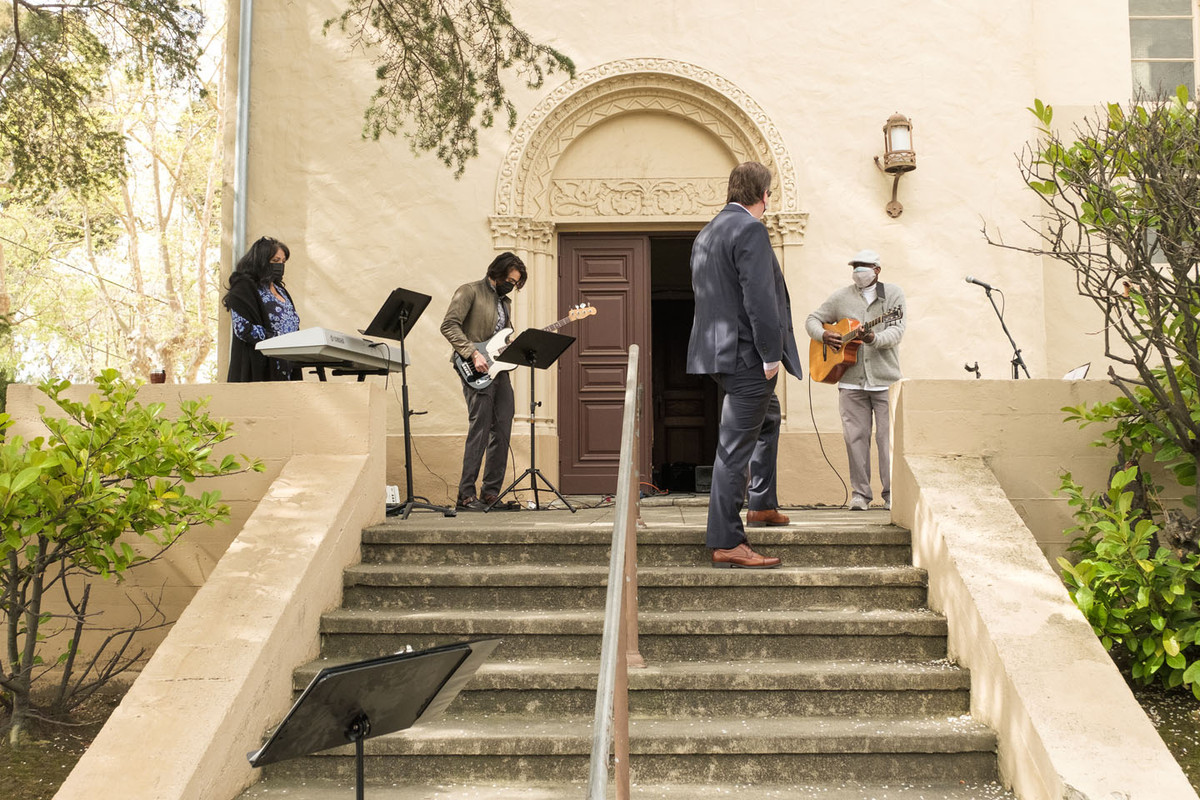 Our music team singing
To celebrate serving others, adults decorated bright gift bags which we will fill with goodies and give to teachers at a local school we have adopted. Kids were able to decorate green bags with Easter stickers and then use them for our Easter Egg Hunt!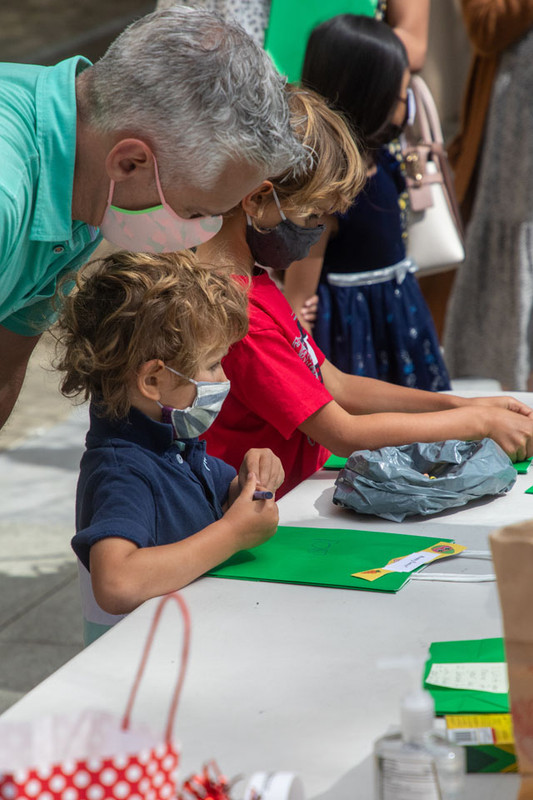 A dad and his 2 sons decorating their Easter bags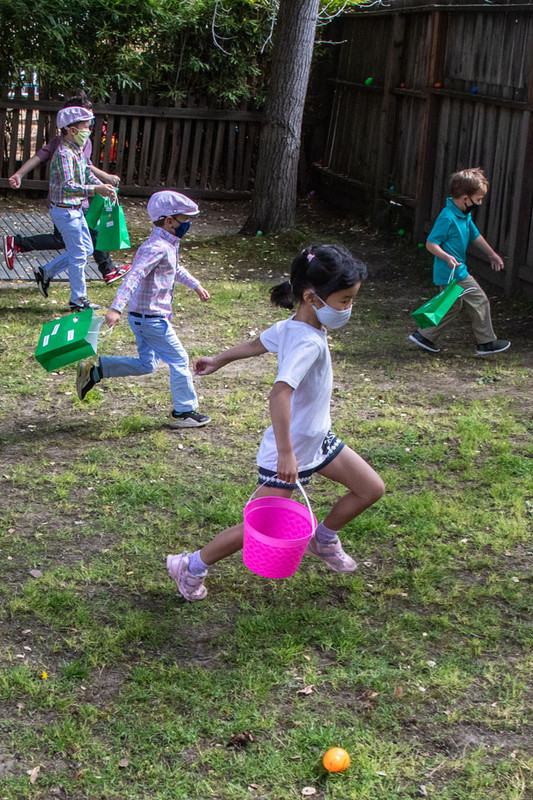 And they're off!!
In the group of 80 attenders, we were delighted to have 14 first time visitors! We were blessed with Jesus' joy and hope as we celebrated His resurrection!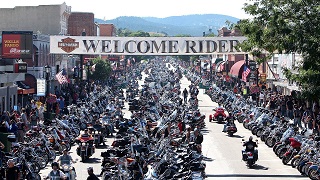 Short Term Mission Opportunity
Apr 07 2021
Sturges Bike Rally
Black Hills of South Dakota – August 6-14, 2021
The Departments of Evangelism of the American Baptist Churches of Nebraska and the Dakotas have teamed up in each of the last twenty years to minister at the annual gathering of over 400,000 people in Sturgis, South Dakota for Bike Week. (Attendance in 2015 was 739,000.)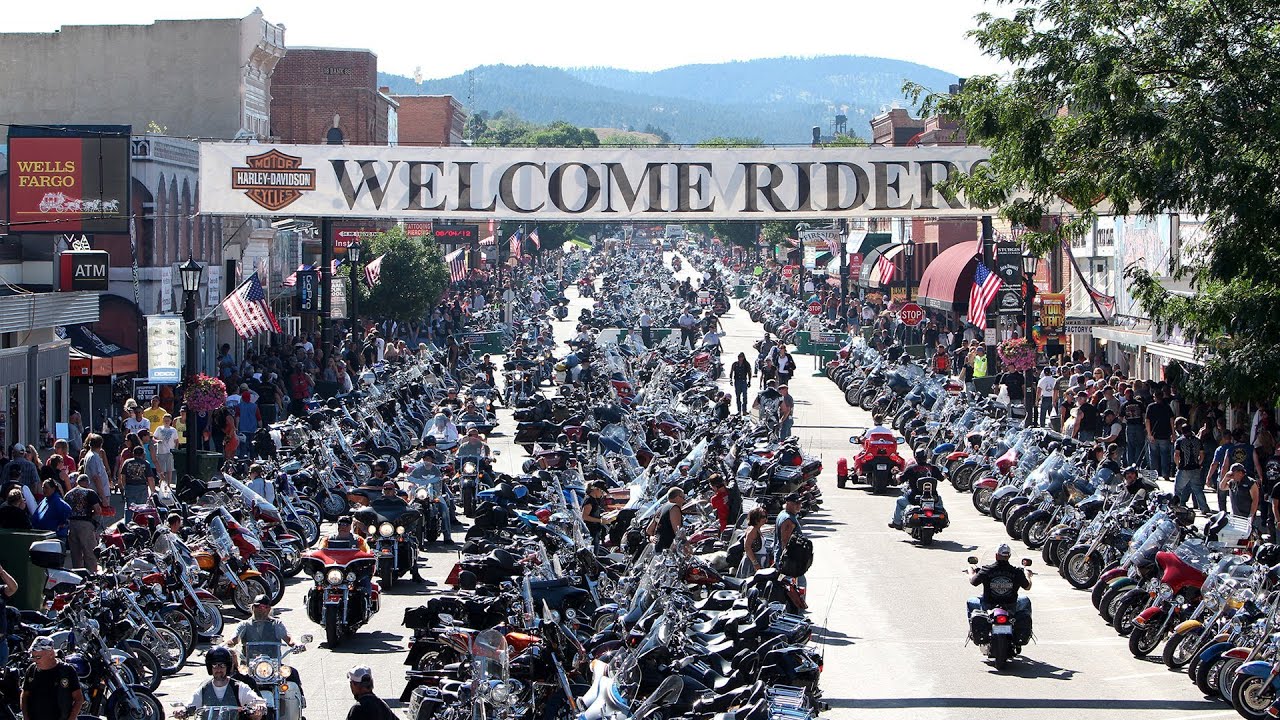 The original strategy the first year was to stage a barbecue and concert on the Thursday evening of Bike Week. This plan was scuttled when the venue selected became unavailable at the last minute. Under the direction of Steve Bils, then Minister of Outreach at First Baptist Church of Omaha, and Pat McBride, Pastor of the First Baptist Church of the Northern Hills in Deadwood, the project was redesigned.
The ABC Emergency Services Center was created in the basement of the First Baptist Church of the Northern Hills in Deadwood to help those who became stranded due to injury, abandonment, or mechanical breakdown. The local law enforcement and social services agencies were encouraged to contact our workers when they ran across people in need. The distribution of thousands of posters and brochures helped others find the ESC on their own. (NOTE: Since 2011 we have been based at First Baptist Church of Rapid City.)
Volunteers from both regions spend all or part of the week helping, feeding, transporting, and counseling the dozens of individuals who come to the ABCESC for assistance. Throughout the week calls come in at all hours of the day and night from churches, police and rescue workers, and individuals wanting us to help men, women, and children in need. Rapid City has become a strategic base of operations as transportation to the hospitals, rescue mission, bus station, and airport is provided.
In addition to the two regions and their churches, the Hellfighters Mission at the Cross, the Christian Motorcyclists Association, the Bond Slaves Cycle Club, the Cornerstone Mission in Rapid City and the Artemis House in Spearfish provided invaluable assistance in a genuine spirit of ecumenical cooperation. At this year's 81st Anniversary Rally we expect a significant increase in the number of rally participants ministered to at the ESC.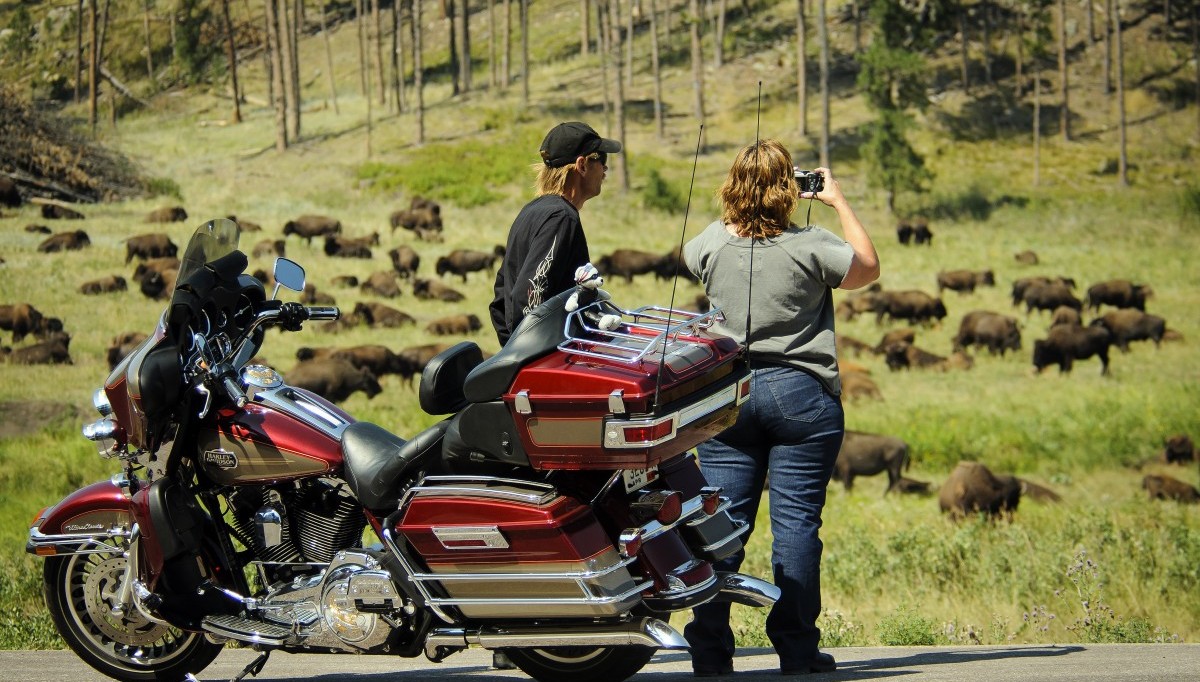 Volunteers don't need to be motorcyclists, but ought to have a heart for evangelism and a willingness to serve. Women volunteers are especially needed due to the large percentage of women and children that we end up assisting. If you can come for all or part of the week we can find a job for you!
Interested in Sturgis Rally Ministry 2021? Here are more details . . .
The ABC Emergency Services Center will be open August 6-14. Volunteers wishing to help set up can plan on arriving as early as August 5.

Housing is provided. Most volunteers bring an air mattress or a cot.

RVers will be provided with space to set up camp.

This mission project is designed for adults. High school students will be permitted when accompanied by a parent.

Routes to Sturgis will be planned for bikers who wish to ride to the event in a group.

Follow-up on those ministered to will be coordinated by contacts in ABC regions around the country.

Each participant is asked to contribute $100 toward the cost of this project. Local churches are encouraged to assist their participating members in raising this amount. Churches and individuals may also make contributions to this project through their regional office.

For even more information contact . . .
American Baptist Churches of Nebraska
11244 Blondo Street • Omaha, NE 68164
(877)244-7330 - (402)556-4730 - fairbury73@gmail.com
www.SturgisAid.com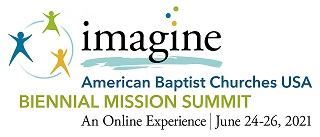 Biennial 2021
Apr 06 2021
ABCUSA 2021 Biennial Mission Summit | Thursday – Saturday, June 24-26, 2021
Plan to experience the vitality of our American Baptist family together with other American Baptists from all corners of the United States and the world through the June 2021 online Biennial Mission Summit event! Join one of the most diverse Baptist denominations as we imagine new possibilities and celebrate together the love of Christ and the joy of being a part of American Baptist Churches USA. The online Biennial Mission Summit will feature scheduled live programming on each of the three event days, June 24-26, an opportunity to interact with exhibitors throughout the week, and options for online fellowship and fun with both regular attendees as well as those who have not attended an in-person event before. Participants can also draw from a library of pre-recorded sessions and resources for prayer, worship, and inspiration. Your registration gives you access to all the event content for 90 days after the event! Learn more and register now at www.americanbaptists2021.com.
**Early registration discount ends March 31, 2021**
***Reserve your spot for the online Biennial Mission Summit Preview on April 20, 2021 at 8:00 PM ET. Click HERE.***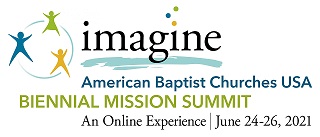 What to Expect at the 2021 Biennial Mission Summit
Plan to experience the vitality of our American Baptist family together with other American Baptists from all corners of the United States and the world through the June 2021 online Biennial Mission Summit event! Join one of the most diverse Baptist denominations as we imagine new possibilities and celebrate together the love of Christ and the joy of being a part of American Baptist Churches USA. The online Biennial Mission Summit will feature scheduled programming on each of the three event days, June 24-26, 2021. Participants will draw from a library of pre-recorded sessions, along with resources and offerings for prayer, worship, live workshops, inspiration, fellowship, and online fun, all while connecting with both regular attendees as well as American Baptists who have not attended an in-person event before!